Water Heater Disposal is Easy When WE JUNK
Hot water has become an essential part of every household nowadays. Hot water heater is an appliance that allows us to heat and/or store hot water for the future needs. Water heaters can differ in design and characteristics, but just like any other appliances, have their lifespan. So, when you realize it's time to replace the old water heater with a new one, make sure that your unwanted boiler is disposed of properly, and recycled safely to the environment.
To determine the age of your water-heating system, it's important to know the average life expectancy of similar models. Generally, lifespan of a water heater varies from 8 to 12 years, with recommended replacement after 10 years of day-to-day usage. So, if you've been using water boiler more than that, you may be looking for a local hauling company to dispose of your old boiler properly.
Call WE JUNK for water heater disposal and recycling. We provide stress-free junk removal and eco-friendly recycling services near your location. Get free estimate or book a pick up date online – no upfront payments or hidden fees. Order Now!
Types of Water Heaters We Take
Storage Water Heaters

Storage Water Heater is a tank-type household appliance which has a specialized vessel for water storing and further supply. Such conventional WH's are widely used for both residential and commercial purposes. Storage water heaters consist of a cylindrical vessel or container that keeps water continuously hot and ready to use.

Do you have unwanted storage water heater you want to get rid of, or planning to replace it with the new one any time soon? WE JUNK responsibly! Let us do the hauling for you, because WE CARE enough to do it properly! We donate or recycle your unwanted items and appliances whenever possible. Think green and order stress-free junk removal services today!

Tankless System for Water Heating

Tankless Water Heating System, alternatively known as 'on-demand water heater', provides continuous hot water delivery as you need it. While they have many benefits over conventional tank-style WH's, there are certain drawbacks and limitations to consider before buying a new one. WE JUNK can definitely help you get rid of the old water heater properly.

Tankless water heaters are more energy efficient, and because of their design, take much less space, compared to their conventional fellow-heaters. What's important at this point is to properly dismantle your old water heater and call WE JUNK to make sure its disposed in green way.

Heat Pump Water Heaters

Heat Pump Water Heater, or Hybrid Water Heater, is a good energy-saving solution. It does not directly generate heat, but uses electricity to move the heat, and warm up the water. Though, heat pump heaters are the most expensive of all boiler styles, they are believed to be incredibly cost-efficient in the long run.

If you feel like saying goodbye to your old water heater, call us now, because there is nothing WE can't JUNK! Get a quick estimate online and schedule a stress-free junk removal at your doorstep. It's super-easy – try it!
How it works
1

Schedule an appointment

2

Point to your old appliance

3

Enjoy the cleanness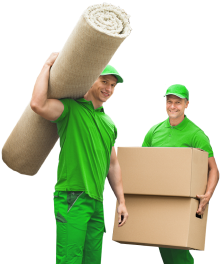 What needs to be cleaned out?
What Happens to Your Items?
We realize how important it is to recycle and take care of our nature, and that's why, at WE JUNK, we recycle or donate the unwanted items whenever possible. We donate to: Goodwill, Salvation Army, Habitat for Humanity, as well as other local communities ('Leveling the Playing Field, Washington D.C)
Cities where this service is most in demand
Frequently Asked Questions
→ How much can I get for recycling a water heater?

The scrap value of an old water heater depends on many factors. Before scraping an unwanted appliance at your local scrapyard, make sure to check if there are valuable components within. These components require specialized handling, but can earn you much more money, compared to quick toss at the nearest landfill. Let's think green and preserve the environment together!

→ What's an average lifespan of a water heater?

An average life expectancy of a water heater is 8-12 years, but this depends on many factors: proper installation, type of heater, maintenance, water quality and, of course, the manufacturer. The key point is to react immediately, when you notice any malfunctions in the system or changes in the temperature of your water.

→ How to drain a water heater for removal?

Many of us never really think about repairing a water heater, until one day it stops working and the fuss begins. In order not to let this happen, most manufacturers suggest draining a water heater once in a while (twice/year). The process is not too difficult to accomplish on your own. But you are going to need a garden hose for this. Find the complete step-by-step guide in our Blog section within the nearest time.

→ How to dispose of my old water heater properly?

A proper disposal of an unwanted water heater is significant to preserving the environment. Because such type of appliances has impact on global warming, it is highly important to recycle components whenever possible. Locate a recycling facility near you and find what type of appliances and/or components they accept. Other than that, you can simply call 1-888-935-8652 and stay rest assured that your unwanted items are disposed of responsibly!
Featured on
Amazon
Angellist
Yelp
Flickr
Forembee