Stress-free Scrap Metal Pick up & Recycling
Got an old kitchen stove you need to get rid of? Let us help! No need to keep that massive piece of kitchen appliance at home, taking up all the free space when you can easily call local junk haulers like WE JUNK!
Ovens and similar household devices can be unmanageable, so why not leave all the heavy lifting to us and not to worry about it? Give us a call or fill out an online form to get an instant price estimate and easily schedule a convenient pickup day. Our skilled hauling team is going to arrive at your site on time and remove all of your unwanted items. Being environmentally conscious, we believe that proper disposal matters. That's why we take your unwanted items to recycle whenever possible. If not, we make sure to dispose of in accordance with local and federal regulations.
We Haul Away All Types of Ovens and Stoves
Oven Removal

When it comes to removing an old stove or an oven, the last thing we want to think about is how to remove them, as well as where to take them for eco-friendly disposal. Regardless of the type, all ovens are bulky and heavy to lift, but the solution you're looking for is near – WE JUNK!
We are fully licensed and insured to arrive at your site and haul away all of your unwanted items and appliances. What's more important, we care enough to make sure that they are disposed of properly, not ending up in a landfill.

Includes: conventional ovens, convection ovens, OTG Oven, etc.

Stove Disposal

There are tons of different kinds of domestic and commercial stoves that require specific handling. A widespread type is a built-in (or drop-in) oven stove that needs to be appropriately disconnected and dismantled in the first place. A freestanding stove, on the other hand, doesn't need such actions but still going to take a lot of your physical forces.

For stress-free appliance removal, call WE JUNK, because no stove is too big or small for us to handle!

Includes: gas stoves, electric stoves, coal stoves, wood-burning stoves, pellet stoves, and all examples of this variety.

Range Recycling

If you currently own an old kitchen range that needs to be removed, you've come to the right place. Doing a junk removal business for a long time, we realize the importance of customer satisfaction and environmental protection. That's why, when WE JUNK, we make sure to examine the condition of an old appliance and take the most eco-friendly solution to its' disposal.

In case your unwanted device is still in working order, we'll make sure to donate it to a local charity. And if not, we've got what it takes to break it down for parts and move to an appropriate processing facility. And that's how WE JUNK!.

Includes: electric range, gas range, ceramic-top/smooth-top range, etc.
How it works
1

Schedule an appointment

2

Point to your old appliance

3

Enjoy the cleanness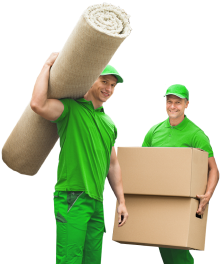 What needs to be cleaned out?
What Happens to Your Items?
About half of all the States have successfully passed law requirements for proper e-waste recycling. No matter where you live, there are safe methods to properly dispose of electronic waste. These products contain toxic substances, such as lead, mercury, and cadmium which should be disposed of carefully. Reusable materials are to be taken to a specialized recycling facility, such as Call2Recycle, E-Cycling Central, Sustainable Electronics Recycling International, Staples, Liquid Technology, BestBuy, Complete Recycling Solutions, Thanks for Being Green and others.
We realize how important it is to recycle and take care of nature, and that's why, at WE JUNK, we recycle or donate unwanted items whenever possible. There are tons of nonprofits and charity organizations that will be more than happy to take your unwanted items. Whenever possible, we donate to Dell Reconnect (Goodwill), American Cellphone Drive, the World Computer Exchange, eBay for Charity, Salvation Army, Habitat for Humanity, Leveling the Playing Field, Big Brothers Big Sister of America, as well as some other organizations.
Cities where this service is most in demand
Frequently Asked Questions
→ How Much Does a Stove Weight?

A kitchen stove is considered one of the bulkiest and hardest to maneuver appliances competing with refrigerators, water heaters, and dishwashers. Since stoves come in a vast range of sizes and types, it's hard to say precisely, but the average 24-30-inch convection oven weighs around 128 pounds.

→ How to Remove a drop-in stove?

If you're upgrading kitchen appliances and want to know how to remove a drop-in stove properly, here's what you'll need to do.

TURN OFF. On the main electrical panel, turn off the power to the kitchen or a particular breaker dedicated to the oven. If it's a gas oven, make sure to turn off the main gas supply (LP or natural gas tank outside).

BOLTS AND SCREWS. Using a flashlight, find the mounting bolts and screws connecting the stove with the counter (at all sides). Make sure to find the screws or bolt heads fastened from the cabinetry to the drop-in (behind the cabinet doors).

POWER CORD. Have someone help you to lift the range as you unplug the power cord from the outlet (or turn it off), then unfasten the gas line.

PULL AND LIFT. Using a hand truck, lift and pull the stove from the cabinets. Carry the drop-in out of the kitchen on the hand truck. In case it's too much, there is always an easier way to get it done. Call professional junk haulers like WE JUNK, because we provide stress-free trash removal and care enough to dispose of your unwanted items in an eco-friendly manner. Call NOW!

→ How do I schedule an appointment?

Simply give us a call and indicate what items you need to get rid of. Or you can use an online form to arrange a pickup date. We work around your busy schedule by providing same day service, weekend service and emergencies.
Featured on
Amazon
Angellist
Yelp
Flickr
Forembee