Stress-free Refrigerator Disposal when WE JUNK
Getting rid of your old appliances may be tricky. Especially when we talk about items containing dangerous parts and hazardous chemicals. A proper refrigerator disposal requires dismantling, pickup and recycling, not to mention the transportation difficulties. Most fridges are incredibly heavy, so carrying them even to the curb is definitely not a one-person job. Another important point here is that any refrigerator or freezer can't be simply thrown out in the landfill, in accordance with Federal Laws and Regulations. Such appliances contain harmful chemicals (refrigerants) and toxic gases that can damage the environment, and thus, should be disposed of responsibly.
While not many other companies can offer a fridge pickup as a part of their junk removal services, at WE JUNK, we believe that a proper e-waste disposal matters! Thus, doing refrigerator removal with our company, you can stay rest assured about preserving the environment while saving your time and efforts!
Important! If you currently own an old icebox you want to dispose of, please make sure to dismantle the door of the freezer before taking it out to the curb. Early refrigerators can only be opened from the outside, and thus, can become the cause of accidental trappings and inevitable consequences! Do not let your children play with discarded appliances and never leave them unattained!
Types of Refrigerator We Take
Domestic Fridge

Need a hand with your old icebox or fridge? Leave it to us, because WE JUNK! We know how to properly dispose of your unwanted e-waste and donate or recycle whenever possible.

Includes: side-by-side refrigerator; top freezer and bottom freezer refrigerator; French door refrigerator; old icebox and other home fridges or freezers. Can be both freestanding and counter-depth.

Commercial Refrigerator

f you need to dispose of your industrial refrigerator, seek no further! Our professional team knows how to handle appliance removal and recycling properly, and will be glad to help you with that. Because industrial refrigerators are bigger and contain more hazardous chemicals, it is important to know exactly how to dismantle the appliance, where to donate it (if it still works) or where to take it for recycling.

Includes: single, double and 3-door freezer; glass front fridge; undercounter; glass showcase; commercial deep freezer. Can be both freestanding and counter-depth.

Freezer or Cooler

Your old pal Coolie is not cool anymore? Maybe it's time to say goodbye and move on? WE JUNK your unwanted freezer or mini fridge, so you don't have to! Spend your time with friends or family, and leave all the heavy-lifting to us. Our professional haulers know how to deal with used appliances and where to take them for recycling.

Includes: freezer; cooler; mini fridge; chest freezer, compact refrigerator.
How it works
1

Schedule an appointment

2

Point to your old appliance

3

Enjoy the cleanness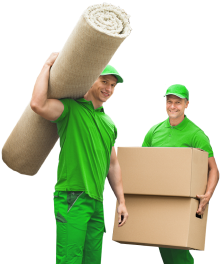 What needs to be cleaned out?
What Happens to Your Items?
We realize how important it is to recycle and take care of our nature, and that's why, at WE JUNK, we recycle or donate the unwanted items whenever possible. We donate to: Goodwill, Salvation Army, Habitat for Humanity, as well as other local communities ('Leveling the Playing Field, Washington D.C)
Cities where this service is most in demand
Frequently Asked Questions
→ How long does a refrigerator last?

The National Association of Home Builders has compiled the life-cycle data for home appliances ("Study of Life Expectancy of Home Components"), and according to it, dryers and refrigerators last about 13 years. These data have been gathered from scores of product manufacturers and testing labs, but another factors such as product quality and the use of such appliances should be taken into consideration.

→ What is a counter depth refrigerator?

A counter-depth refrigerator is built-in to your kitchen countertops. It offers the same storage, as a regular fridge, but does not stick out past kitchen counters and cupboards, keeping the appliance in line with the rest of your kitchen. Please note that dismantling a counter-depth refrigerator is technically difficult and dangerous, so, make sure to use professional help not to get hurt.

→ What temperature should a refrigerator be?

According to the US Food & Drug Administration, the best way to slow the growth of harmful bacteria is to keep proper temperatures of the food stored in your refrigerator. To ensure that your fridge is performing well, see if it keeps temperature at 40°F or below. The freezer should be at 0°F. Use an inexpensive freestanding appliance thermometer to find if your refrigerator needs adjustments or removal.

→ Why refrigerator recycling is important?

For better understanding of this matter, we need to acknowledge the difference between the manufacturing series of refrigerators. The ones made before 1995, normally contain harmful ozone-depleting substances (ODSs), such as Chlorogluorocarbon (CFC) and Hydrochlorofluorocarbons (HCFCs). Such refrigerants destroy the ozone layer in the upper atmosphere and may even lead to negative climate changes. Refrigerators produced after 1995, use Hydrofluorocarbon (HFC). Such refrigerant is not ozone-depleting, but is related to greenhouse gases. According to the Clean Air Act (US Environmental Protection Agency), CFCs and HCFCs must be recovered and recycled by a professional certified by EPA in accordance with the Stationary Refrigeration Safe Disposal Requirements. At WE JUNK, we realize the importance and dispose of your old refrigerator safely and in line with EPA guidance.
Featured on
Amazon
Angellist
Yelp
Flickr
Forembee