Printer Removal and Recycling
If you need to get rid of your old printer or any other piece of electronics, call WE JUNK, because WE KNOW how to dispose of your unwanted items responsibly. Household appliances and electronics require proper handling, dismantling, and recycling. It is important to know that these devices contain hazardous chemicals and components, which can harm our environment if disposed of improperly.
Another point to consider is that e-waste can be a valuable source of reusable metals and materials. That's what makes the difference between simple tossing junk items into the landfill, and disposing of them in a green way. Here, at WE JUNK, we believe that reusable materials are to be accordingly processed and harmful elements to get into the right recycling streams. So, if you're looking for responsible junk haulers near you, seek no further, because WE JUNK properly!
Types of Printers We Take
Inkjet and Laser Printers

Getting rid of your old inkjet printer? For stress-free e-waste removal call WE JUNK, because WE CARE to dispose of your unwanted items responsibly!

Whether you're replacing a used inkjet printer with a new one, or simply clearing out your home space, all junk appliances and electronics should be disposed of in an eco-friendly way. Because such devices contain reusable materials (cartridges) and hazardous components, it is important to sort out the first and safely handle and dispose of the second. The whole process of ecologically friendly e-waste disposal is called recycling. And this is what we believe that matters!

Includes: ink cartridge printers (both liquid and solid inkjet), toner-based printers, laser printers, LED printers, dot-matrix printers, line printers, monochrome printers, as well as typewriters.

Multifunction Printer
(MFPs)

Designed for both domestic and commercial use, multifunctional (all-in-one) printers are much bigger in size and weight than the regular ones, thus, require heavy lifting and lots of trunk space for their removal. Try calling professional junk haulers for your e-waste removal needs, and rest assured that your unwanted items will be disposed of responsibly.

An important point of this matter is that cartridge products can be a valuable source of raw materials, if disposed of properly. Toner cartridges, for example, are both recyclable and reusable. Here, at WE JUNK, we believe that the potential of such components should be fully realized, because it matters not only to us, but to the environment we live in.

Includes: multifunction printers (MFPs), all-in-one laser printers, SOHO MFPs, office MFPs, multifunction laser printers, production printing MFPs, copier, scanner, fax etc.

3D Printers

Looking for ways to dispose of your used 3D printer? For eco-friendly electronics recycling call WE JUNK, because WE CARE enough to properly discard your unwanted items!

Though this particular type of printers is relatively fresh, this, unfortunately, does not make it less harmful to human health and the environment. The essence of the problem, at this point, lies in the emission from fused filament, not the cartridges, as in regular printers. Depending on the characteristics of the device, it may include toxic chemicals (e.g. ultrafine particles, volatile organic compounds) and hazardous materials, which negatively affect our health. So, it is very important to keep in mind both while working with a 3D printer, and when disposing of it.

Includes: all types of 3D printers, as well as 3D pens and related items.
WE JUNK Printers Manufactured by:
HP (Hewlett-Packard), Epson, Canon, Xerox, Dell, IBM, Brother, Samsung, OKIdata, Kodak, Toshiba, Sharp, Samsung, Konica Minolta.
How it works
1

Schedule an appointment

2

Point to your old appliance

3

Enjoy the cleanness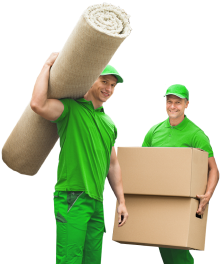 What needs to be cleaned out?
What Happens to Your Items?
About half of all the States have successfully passed law requirements as for the proper e-waste recycling. No matter where you live, there are safe methods to properly dispose of electronic waste. These products contain toxic substances, such as lead, mercury, and cadmium which should be disposed of carefully. Reusable materials are to be taken to a specialized recycling facility, such as: Call2Recycle, E-Cycling Central, Sustainable Electronics Recycling International, Staples, Liquid Technology, BestBuy, Complete Recycling Solutions, Thanks for Being Green and others.
We realize how important it is to recycle and take care of nature, and that's why, at WE JUNK, we recycle or donate the unwanted items whenever possible. There are tons of nonprofits and charity organizations who will be more than happy to take your unwanted items. Whenever possible, we donate to: Dell Reconnect (Goodwill), American Cellphone Drive, the World Computer Exchange, eBay for Charity, Salvation Army, Habitat for Humanity, Leveling the Playing Field, Big Brothers Big Sister of America, as well as some other organizations.
Cities where this service is most in demand
Frequently Asked Questions
→ What to Do with Old Printers?

If you're willing to get rid of or replace a used printer, there are several ways to do that: donate your old printer to any local charity organization (while helping your community grow); exchange it for a new device with a special trade-in programs by manufacturers; or, in case you simply want to dispose of it, call professional junk hauling company (like WE JUNK) and rest assured that your e-waste will do no harm to the environment. Not to say, that illegal landfill dumping of e-waste is regulated by Law (at a state and federal level), and may lead to fines and even prison sentence. Think green!

→ How to Dispose of a Printer?

First and foremost, do not just toss it in the garbage. Printers, like any other electronic device, contains hazardous chemicals which can be harmful to the environment and human health. The most valuable component of any printer is cartridge, because it is reusable in future. So, before taking your unwanted device to any recycling facility, make sure to focus on proper dismantling and recovering the cartridge from your old electronic pal. Next step, would be choosing the most suitable recycling option for you: locate the nearest e-waste collection center or retailer store to see if they have labeled recycle bins, where you can simply drop off your printer.
E-waste recyclers who accept printers: Best Buy (printer trade in), Staples, Target, Office Depot, Earth911, Office Max, Funding Factory, Walmart, HP Instant Ink Program. Whatever the reason you're willing to dispose of your used printer, please note: improper disposal of printers and other forms of electronic waste may lead to serious legal repercussions.
Featured on
Amazon
Angellist
Yelp
Flickr
Forembee