Microwave Oven Disposal Made Simple
After the upgrade of the kitchen appliances, you probably have an old microwave oven (or any other device) lying around the house, doing nothing but collecting dust. If that's the case, let us help you with that! Working in junk removal for more than 37 years, we know how stressful and physically demanding home remodeling can be.
We provide responsible microwave oven removal focusing on recycling or repurposing whenever possible. Just like with any other kitchen appliance, we make sure that each piece of a used microwave is broken down into metals and valuable materials and taken to a dedicated facility for further processing. Simply speaking, we always choose the most environmentally-friendly solution to your junk removal needs. WE JUNK because WE CARE!
We Haul Away All Types of Microwaves
Solo Microwave Ovens

One of the most common types is a solo microwave oven, used primarily for reheating, light cooking and defrosting. Being very affordable, these can be found everywhere, including homes, offices, restaurants, etc. Such high demand, however, does not mean they never break. And this leads us to a point where old microwaves can potentially end up in a landfill doing nothing but harm to our environment. We don't want to do that.

Here, at WE JUNK, we're committed to proper appliance removal, which means that we always try to choose the greenest solution when disposing of unwanted items. If the appliance is still in working condition, we're going to donate it to a local charity or other nonprofit. And if not, the parts of an old microwave will be broken down and taken to a specialty recycling facility.

Grill Microwaves

Though grill microwaves considered less common than solo's, they are mainly purposed for cooking steaks, chicken, or fish the same way as you would do in outdoor chargrills. And while the functional difference is minor, grill microwave ovens are potentially more dangerous to the environment due to the presence of grilling coils and other parts that can (and should) be recycled and reused. Most of the grill microwaves include stainless steel, which is 100% recyclable, making the appliance a great source of valuable resources.

That said, at WE JUNK, we take an opportunity to dismantle electronic devices and take the parts to the appropriate processing facility whenever possible. So, if you're looking for a responsible appliance removal near you, seek no further, because WE JUNK!.

Built-in Microwaves

Built-in (or integrated) microwave ovens are the hardest to handle when it comes to disposing of your old kitchen appliances. While replacing a freestanding microwave is going to take you a mere few minutes, a built-in oven will require professional dismantling (and disconnection), as well as some physical force. Let us help!

No need to lift a finger when WE JUNK because we do all the heavy lifting for you. Our skilled hauling team is prepared to do the job of any difficulty, making sure not to damage any of your property while moving. For stress-free junk appliance removal, call WE JUNK!
How it works
1

Schedule an appointment

2

Point to your old appliance

3

Enjoy the cleanness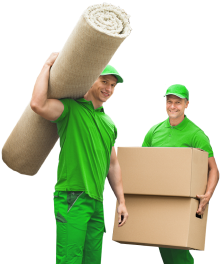 What needs to be cleaned out?
What Happens to Your Items?
About half of all the States have successfully passed law requirements for proper e-waste recycling. No matter where you live, there are safe methods to properly dispose of electronic waste. These products contain toxic substances, such as lead, mercury, and cadmium, which should be disposed of carefully.
Reusable materials are to be taken to a specialized recycling facility, such as: Call2Recycle, E-Cycling Central, Sustainable Electronics Recycling International, Staples, Liquid Technology, BestBuy, Complete Recycling Solutions, Thanks for Being Green and others.
We realize how important it is to recycle and take care of nature, and that's why, at WE JUNK, we recycle or donate unwanted items whenever possible. There are tons of nonprofits and charity organizations that will be more than happy to take your unwanted items. Whenever possible, we donate to Dell Reconnect (Goodwill), American Cellphone Drive, the World Computer Exchange, eBay for Charity, Salvation Army, Habitat for Humanity, Leveling the Playing Field, Big Brothers Big Sister of America, as well as some other organizations.
Cities where this service is most in demand
Frequently Asked Questions
→ How to Dispose of a Microwave Oven?

Among many possible options to choose from, first, consider the condition of your old microwave.

SELL. If you've already upgraded to a new appliance and the old one is just sitting around the house cluttering, you might want to make a couple of bucks selling your oven online or in a garage sale. Check the listings on these marketplaces: LetGo, eBay, Facebook, OfferUp, Carousell, and Craigslist.

DONATE. If your used microwave is still in working order, local charities and nonprofits will gladly accept it and possibly help someone in need. At the same time, you will benefit from donating an item through future tax deductions.

RECYCLE. If you're environmentally conscious (like we are), the greenest way to dispose of your scrap appliances is by breaking it down to parts and taking to the nearest recycling center. Most small appliances contain metal (like steel) that is 100% recyclable. We believe that if an electronic device includes useful materials that can be recycled – they should not end up in a landfill.

JUNK REMOVAL. For stress-free removal of your old appliances, call local professional haulers (like WE JUNK), and leave the rest to them. This way, you can stay rest assured that regardless of condition or the type, your old appliances are going to be properly recycled and disposed of in accordance with local and federal regulations. WE JUNK because WE CARE!.

→ Where to Recycle Old Microwave Near Me?

Try searching for a local recycling facility near you so that you don't have to spend time and effort hauling the appliance somewhere far away. Just to name a few: Call2Recycle, E-Cycling Central, Staples, Liquid Technology, BestBuy, Complete Recycling Solutions, Thanks for Being Green and others.

→ How do I schedule an appointment?

Simply give us a call and indicate what items you need to get rid of. Alternatively, use an online form to schedule a convenient pickup day. We're going to work around your calendar and may be able to provide same day service, weekend service, or emergency events.
Featured on
Amazon
Angellist
Yelp
Flickr
Forembee