Mattress Removal – Soft Job when WE JUNK
Did you sleep alright last night? How old is your mattress? Answering to these two simple questions may get you thinking about getting rid of an old mattress and upgrading to a new one. And while you should have no difficulty in finding a new bed (in a local store or online), disposing of a used mattress may be a real head-scratcher.
Many states have specific laws on a proper mattress disposal which prohibits putting a whole bed in trash. A curbed mattress on a garbage day may result in a ticket or fine. On the other hand, if you live in an area where you can throw out a mattress with regular trash, make sure to carefully learn your local ordinance to avoid fines and pickup refusal. But, in case landfill mattress disposal is illegal in your area and you can't just throw it away in a regular trash — call WE JUNK, because WE CARE enough to arrange a convenient pick up date and dispose of your unwanted item in a proper manner.
Types of Mattresses We Haul Away
Innerspring Mattress

The innerspring mattresses (or coil mattresses) are the most common type sold. These use internal support of metal springs which consist commonly from steel. This type of mattresses is tending to wear out faster, and due to the presence of coils, is going to need replacement much sooner than their springless fellows. At the same time, steel is considered to be the most recycled material on our planet, and for good reason. The recycling of metals enables us to preserve natural resources while requiring less energy in production. And this is what we believe that MATTERS!

Memory Foam Mattresses

Memory foam mattresses are very common and are widely used owing to the ability to conform to your body as you sleep. This feature eliminates the need to flip the mattress routinely thus making it more durable. But not everlasting. While the average mattress lifespan is about 8 years, one may feel the need to replace a sagging mattress because their comfort requirements have changed over time.

So, when you know it's time for an upgrade, give us a call, because WE JUNK responsively.

Gel Mattresses

Gel mattresses are commonly made of synthetic materials that are more breathable than plain memory foam ones. Gel is combined with memory foam to provide more comfort and equal pressure across the body. And while this type of mattresses is great to sleep on, the synthetic materials within should be disposed properly and recycled if possible.

If you need a hand with the removal of your old gel mattress, let us know!

Pillow top Mattresses

Mattresses with pillow toppers (else called euro-tops) have additional layer which makes them bulkier thus more difficult to handle. And while this feature provides nice cooling effect in a sleep and sustains durability of the mattress, pillow top layer may consist of textiles that can be recycled or reused. That's why, if you're willing to get rid of your old pillow top mattress, you've come to the right place. WE JUNK like no one else does!

Waterbed Mattresses

The waterbed mattresses use water as the primary support system which makes you feel floating while you sleep. On the other hand, when you know it's time to upgrade for a new mattress this becomes a disadvantage, making it very bulky, difficult to move, and time-consuming to disassemble. And while waterbed mattresses may seem to be tricky to handle, if you're getting rid of one, simply make sure to drain it before throwing away orleaving for us to haul away. We take job of any difficulty and always think green when WE JUNK.

Airbed Mattress

Mattresses that use a chamber filled with air as the primary support are also called air beds. This type of mattresses is made from plastic with PVC which can pose risks to the environment if disposed of improperly. And that's what we are here for — call WE JUNK, because we know how to get the job done in a green way. Rest assured that your unwanted items are not going to end up in a landfill, because we believe that mattress recycling matters!

Adjustable base

The adjustable base beds are considered to be one of the most flexible types of beds. Being able to recline, adjust and even massage your aching back and legs, these are perfect for targeting sleep-related problems. Unfortunately, this advantage becomes a drawback when you realize it's time to switch out your old bed to a new one. Because there are moving electrical parts (like motors, joints etc.), adjustable bases require maintenance throughout their life cycle (custom tools to maintain hygienic quality), and specific handling while being removed. In case you be needing a hand with your used adjustable base disposal simply let us know by leaving an online inquiry or giving us a call.

Latex mattresses

Latex mattresses use latex foam instead of memory foam, and are considered to be a more natural bedding option. These are made with natural materials and being that, they are 98% biodegradable. This means that every part of the mattress is recyclable, so you are likely to avoid troubles disposing of it when the time comes to upgrade your mattress. Additionally, organic latex mattresses last longer than most regular beds, but in case it's time to get rid of your old latex mattress call WE JUNK, because we dispose of your items responsibly.

Hybrid Mattress

Many people consider hybrid mattress to be the golden mean when choosing between a memory foam and a gel mattress. With the combination of innerspring system with layers of memory foam (or latex), these provide both support and bounce while you sleep. Along with the comfort, these are very durable — an average hybrid bed could last for more than 10 years. But, on the other hand, the more materials used in the production (manufacture) — the more difficult it'll get to dispose of an old hybrid mattress without doing any harm to the environment.

Polyurethane Foam Mattress

While polyurethane foam (or polyfoam) mattresses are considered to be more affordable than the others, the compounds used in the upholstery of this mattress type are known to be derived from petrochemicals. An improper disposal of these belongs to the white pollution and constitutes a menace to the living environment. If you care about the nature of our planet, make sure to consult with your local recyclers before throwing out an old polyfoam mattress in a landfill. Or else, call WE JUNK, because we care enough to dispose of your unwanted items in an eco-friendly way.

Box-Springs

If you're willing to get rid of your old box spring or another type of bed base, seek no further. Schedule a pickup day online or give us a call. Our team of professional haulers will get you a hand with your old mattress and its' foundation. Another important thing to keep in mind is that bed bases contain materials that can be recovered and reused: metal springs, for example, are commonly made of steel; the frames usually consist of wood, cloth or metal; and support slats can be made from metal or wood (glulam). All these materials can and should be recycled in order not to end up in a landfill contributing to greenhouse gas emissions and ground pollution.

Organic Mattress

Used mattresses pose several problems when they wind up in a landfill: they take up a considerable amount of space in a landfill, as well as increase your carbon footprint. Organic mattresses are perfect for people who are conscious about the environment and also want to limit their exposure to chemicals and toxins. This type of mattresses contains materials like natural latex, organic cotton and wool, while their support coils are made from recycled steel. All these materials are considered eco-friendly, sustainable, and non-toxic. So, if you're looking for an environmentally sustainable option to get rid of your used organic mattress, give us a call!
How it works
1

Schedule an appointment

2

Point to your old appliance

3

Enjoy the cleanness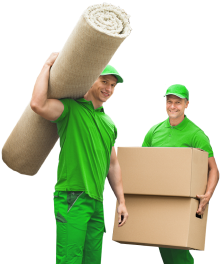 What needs to be cleaned out?
What Happens to Your Items?
About half of all the States have successfully passed law requirements for proper e-waste recycling. No matter where you live, there are safe methods to dispose of electronic waste properly. These products contain toxic substances, such as lead, mercury, and cadmium which should be disposed of carefully. Reusable materials are to be taken to a specialized recycling facility, such as: Call2Recycle, E-Cycling Central, Sustainable Electronics Recycling International, Staples, Liquid Technology, BestBuy, Complete Recycling Solutions, Thanks for Being Green and others.
We realize how important it is to recycle and take care of nature, and that's why, at WE JUNK, we recycle or donate the unwanted items whenever possible. There are tons of nonprofits and charity organizations who will be more than happy to take your unwanted items. Whenever possible, we donate to: Dell Reconnect (Goodwill), American Cellphone Drive, the World Computer Exchange, eBay for Charity, Salvation Army, Habitat for Humanity, Leveling the Playing Field, Big Brothers Big Sister of America, as well as some other organizations.
Cities where this service is most in demand
Frequently Asked Questions
→ What to do with an old mattress?

Depending on the condition of your mattress (consider design, materials and usage) there are a couple of option to go about disposing of your unwanted mattress: landfill, incineration, donation or recycling. And while the first two may be either prohibited in your area or simply dangerous to nature, recycling or donating your item would be the most desirable way.

DONATE. Donating your old mattress to a local charity organization may be a good opportunity to do something meaningful for the people in need while clearing out home space for a new mattress. Try local donation centers and see if they accept your unwanted belongings.

RECYCLE. Most types of mattresses contain several valuable materials (such as wood, metal, foam, outer fabric etc.) that can be recovered and recycled. If you're conscious about the ecosystem of our planet, always check with local recycling facilities if your unwanted item can be accepted. However, some recycling companies may refuse to deal with disposing of just one mattress, specially when you need it hauled. This means that your best option is to find local haulers who will take care of the job for you. Try WE JUNK, because we care enough to make sure that your old mattress is disposed of at a proper recycling facility so that it does not damage our environment.

→ When to dispose of a used mattress?

Depending on multiple factors (such as foundation type, manufacturing quality and materials, and product usage), when you start to feel sleeping difficulties – consider leveling up your old mattress to a new one. Lack of sleep, back aches and insomnia may affect your physical and mental health, but also can cause you to have frequent headaches or trouble concentrating. These health condition changes should ring the first bell to any mattress owner that it might be the time to switch out an old sagging foam fellow.

→ Why not to throw a used mattress in a landfill?

While throwing out an unwanted mattress in a landfill may seem like the easiest way to get rid of it, this may put the ecosystem of our planet at risk. Mattresses are bulky and occupy a lot of landfill space. Once thrown away, they become breeding grounds for insects, rodents and bacteria that quickly become a public health risk. THINK GREEN and call WE JUNK for environmentally-friendly junk removal.
Featured on
Amazon
Angellist
Yelp
Flickr
Forembee