Responsible Lawn Mower Removal when WE JUNK
Your good old lawn mower has served you well for many years. Unfortunately, even the best gardening tools can reach the end of the life cycle over time. Or maybe you've already upgraded to a new mower, and the old one is just sitting around your house doing nothing but collecting dust. Don't know where to take an old lawn mower for disposal/recycling? We've got you covered!
Simply give us a call or fill out an online form to schedule a convenient pick-up day. Our skilled hauling team is going to arrive at your site right on time and take away your unwanted items. Here, at WE JUNK, we believe that proper disposal matters. That's why we donate items that are still in working condition whenever possible, and responsibly dispose of your things with care to our environment.
Types of Lawn Mowers We Haul Away
Walk-behind Mowers

A lawnmower is one of the most essential gardening tools for keeping your yard nice and tidy. A walk-behind (or push) type of mowers is considered one of the most common of all. But no matter what kind you use, it's going to need a replacement over time.

If your old lawn mower is rusted and doesn't work, the best thing to do is breaking it down for parts and taking to the nearest recycling facility. Donating or reselling may also be a good option for you, but only if it's in reasonable condition. Among all possible options to dispose of your old walk-behind mower, the most eco-sustainable would be recycling. But, again, to do that, you're going to need to break it down for parts before hauling.

Riding Mowers

If you're an owner of a large garden, you probably have one of these. Riding lawn mowers are highly effective and durable enough to serve you a good amount of time. But how do you go about disposing of bulky landscaping tools like this when you're ready for an upgrade? WE JUNK, so you don't have to!

We know how stressful and difficult it is to get an old lawn mower removed, so let us do the heavy-lifting for you! Our skilled hauling team will arrive and take away all of your unwanted belongings, but more importantly, they know how to get rid of them in a proper manner. WE JUNK responsibly because WE CARE.

Portable lawn mowers

Being much smaller in size than the push or riding mowers, portable ones require appropriate handling and disposal as well. Thousands of garages across the country are filled with old lawn care equipment and tools that are just too big to go into the trash bin, and too dangerous to be tossed into a landfill. So, how to get rid of a broken lawnmower without being fined or causing harm to the ecosystem?

The easiest option would be calling professional junk haulers who will do the lugging for you, and make sure to apply the greenest solution to this matter. Try calling WE JUNK because we are environmentally-conscious and ready to take the job of any difficulty!
How it works
1

Schedule an appointment

2

Point to your old appliance

3

Enjoy the cleanness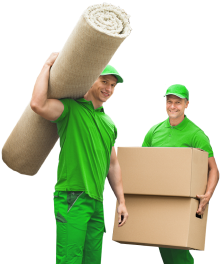 What needs to be cleaned out?
What Happens to Your Items?
We realize how important it is to recycle and take care of nature, and that's why, at WE JUNK, we recycle or donate unwanted items whenever possible. There are tons of nonprofits and charity organizations that will be more than happy to take your unwanted items. Whenever possible, we donate to Dell Reconnect (Goodwill), American Cellphone Drive, the World Computer Exchange, eBay for Charity, Salvation Army, Habitat for Humanity, Leveling the Playing Field, Big Brothers Big Sister of America, as well as some other organizations.
Reusable materials are to be taken to a specialized recycling facility, such as Call2Recycle, E-Cycling Central, Sustainable Electronics Recycling International, Staples, Liquid Technology, BestBuy, Complete Recycling Solutions, Thanks for Being Green and others.
Cities where this service is most in demand
Frequently Asked Questions
→ How to Dispose of Lawn Mower?

TRASH. Leaving your old lawn mower by the curb is not an option. City garbage collection services won't take it with your regular trash because of potentially dangerous fuel and oil residues remaining in it. Additionally, you may get fined for doing so.

SELL. If your old lawn mower is still working, you can try to sell it on a yard sale or online, and make some money to purchase a new one. List your old or broken mower on markets like LetGo, eBay, Facebook Marketplace, OfferUp, Carousell, and Craigslist.

DONATE. Another good option to get rid of a used mower is donating it to a local charity or other nonprofit organizations. This way, you get a chance to help someone in need while getting tax deductions for yourself. Anyway, donating an old riding or push mower is much more eco-friendly than just tossing it in a landfill.

GIVE AWAY. awn mowers are made of metal and plastic parts that are recyclable. But, most recycling centers are going to ask you to drop off your items by yourself, and pay a certain fee for the services.

→ How do I schedule an appointment?

Simply give us a call and indicate what items you need to get rid of. Alternatively, use an online form to schedule a convenient pickup day. We're going to work around your calendar and may be able to provide same day service, weekend service or emergency events.
Featured on
Amazon
Angellist
Yelp
Flickr
Forembee