Disposing of an Old Computer Monitor
When you're replacing an old computer monitor with a new one, one thing that needs to be considered is where to dispose of an unwanted pc monitor. While leaving it on the curb on a trash day may seem like a harmless idea, in fact, it's not. Throwing out a computer monitor into the trash is not just wasteful and potentially dangerous, but may also be illegal in your area. Think green and call WE JUNK for eco-friendly junk removal near you!
Why proper disposal matter? It's all about the contents within any electronic device (or appliance) and the ways they affect the ecosystem of our planet. The components of a computer monitor may contain toxic materials such as lead, copper, mercury and cadmium. These chemicals can be hazardous to the environment of our planet if disposed of improperly. So, in case you may be looking for an eco-friendly junk removal nearby, call WE JUNK. We junk because WE CARE!
Types of Computer Monitor We Haul Away
CRT (Cathode Ray Tube) Monitors

Despite being bulky and costly to replace, CRT computer monitors can still be found operating in many homes and offices nowadays. And while they are, in fact, considered durable, every electronic device can reach the end of its life someday. And when this happens, an important thing to keep in mind is that such devices contain reusable materials which can be retrieved and used in the production of new products. On the other hand, such substances can be extremely harmful to the environment, if disposed of improperly.

So, if you need a hand with your old computer monitor removal, and you care about our planet, call us now — WE JUNK because WE CARE.

LCD (Liquid Crystal Display) Monitors

While LCD monitors are much less bulky than their CRT predecessors, this does not mean that they can be carelessly tossed into a landfill. Just like any other type of computer monitor, LCD screens should be disposed of properly.

Though, liquid crystal display monitors do not contain up to 8 pounds of lead (versus CRT's), they may contain other toxic components such as copper, mercury, and cadmium. And, while these do not affect the average pc user, they can seriously harm the environment we live in. Think GREEN, call WE JUNK!

LED (Light-Emitting Diode) Monitors

Light-emitting diode monitors are considered far more environmentally friendly and have a less negative impact when disposed of. This type of flat-panel screens is more durable than the CRTs and LCDs, but 'durable' does not mean 'everlasting.' So, when you decide that it's time to upgrade for a new computer monitor, you might be looking for junk haulers willing to dispose of your old one in a proper way.

Give us a call! WE JUNK responsibly, and take your unwanted appliances to recycle whenever possible!
How it works
1

Schedule an appointment

2

Point to your old appliance

3

Enjoy the cleanness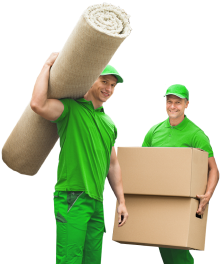 What needs to be cleaned out?
What Happens to Your Items?
We realize how important it is to recycle and take care of nature, and that's why, at WE JUNK, we recycle or donate unwanted items whenever possible. There are tons of nonprofits and charity organizations that will be more than happy to take your unwanted items. Whenever possible, we donate to Dell Reconnect (Goodwill), American Cellphone Drive, the World Computer Exchange, eBay for Charity, Salvation Army, Habitat for Humanity, Leveling the Playing Field, Big Brothers Big Sister of America, as well as some other organizations.
Reusable materials are to be taken to a specialized recycling facility, such as Call2Recycle, E-Cycling Central, Sustainable Electronics Recycling International, Staples, Liquid Technology, BestBuy, Complete Recycling Solutions, Thanks for Being Green and others.
Cities where this service is most in demand
Frequently Asked Questions
→ What to do with an old computer monitor?

Whether you're upgrading for a new computer monitor or simply clearing out some home space from an old cathode ray screen lying around (collecting dust), there are a couple of things to consider upfront.

REUSE. If you are into DIY's or trying something new, there are tons of useful ideas on what to do with your old pc monitor. Check out Raspberry Pi company, for example. They offer an innovative approach on how to bring new life to your old computer and its components.

RESELL. If your old computer screen still works, you may be able to get some cash from selling it online. Try browsing Facebook, Craigslist, Letgo, Swappa, Offerup, Oodle, and others similar marketplaces to find if someone wants to buy and make use of your unwanted item, while you can make some pocket money.

DONATE. Donating an old item or appliance to Charity organizations is an excellent way to help someone in need. And, in turn, you will benefit from tax deductions in the future.

RECYCLE. With rapid technology developing E-waste has become a very urgent environmental concern of today. Mainly, computer monitors (of all kinds) contain toxic metals and chemicals that are hazardous to our environment if disposed of improperly. Call WE JUNK for eco-friendly junk removal and be sure that your items will be disposed of properly.

→ How much does junk removal cost?

We offer free estimates and transparent pricing for all types of services we provide. The final price includes labor and requisite fees (such as transportation, recycling, disposal, etc.).

→ How do I schedule an appointment?

Simply give us a call and let us know what items you need to get rid of. Or use an online form to arrange a pickup date. We work around your busy schedule by providing same day service, weekend service and emergencies.
Featured on
Amazon
Angellist
Yelp
Flickr
Forembee