Stress-free Carpet Disposal when WE JUNK
Planning to remodel your flooring? Need help with an old carpet removal – No need to waste your time and efforts lugging scraps of carpet around the house because WE JUNK responsibly!

Our company delivers stress-free carpet removal services to your doorstep and always acts environmentally-conscious about that. We haul away your unwanted items and donate or recycle whenever possible. We believe that junk removal is not just about getting rid of used items;it's about helping people and doing no harm to the environment
So, if you feel that it's time to upgrade your flooring and don't really know how to go about the proper disposal of an old shaggy carpet, let us know. We will take care of the heavy lifting, and make sure that your unwanted items do not end up in landfills. WE JUNK because WE CARE!
We Haul Away All Types of Carpets
Any Type

If you have an old loop pile or cut pile carpet you need to get rid of, you've come to the right place!

Loop pile(or berber)means the fibers are angled into little loops, which makes the carpet more durable and stain-resistant. Cut pile carpets, on the other hand, cut the threat tips,so they don't make a loop. These carpets are considered softer but, at the same time, denser than the loop ones. Finally, there is a mixed type that combines the best qualities of both cut and loop piles. Importantly, any of the mentioned typesof carpet should be disposed of properly. And by properly,we mean environmentally-friendly because we believe that proper waste management matters!

Any Fiber

It is essential to keep in mind which materials your unwanted carpet is made of. Commonly, rugs are made from various natural and synthetic fibers: wool, nylon, polypropylene, polyester, tri extra, as well as various natural materials. Each has different characteristics thus, require a particular way of disposal. That's why, when it's time to say goodbye to your old shaggy carpet, make sure to consult your local recyclers or junk collection companies before lugging it to the curb.

Any Size

We take all types of household and office carpeting regardless of size or location!Do you currently own a wall-to-wall carpet that is old and loose, and needs to be removed? We can handle the job! Our trained team of haulers knows and is always ready to deal with occurring challenges to make the removal process as easy as possible for you. The only thing you can do to speedup the process is to pull up your carpet and cut it into smaller pieces if that's possible. But be careful with the tack strips as they may contain sharp nails or carpet glue.

For stress-free carpet removal, call WE JUNK, because WE CARE about disposing of your items in the most environmentally-friendly manner.
How it works
1

Schedule an appointment

2

Point to your old appliance

3

Enjoy the cleanness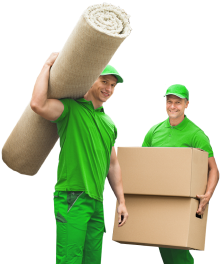 What needs to be cleaned out?
What Happens to Your Items?
We realize how important it is to recycle and take care of nature, and that's why, at WE JUNK, we recycle or donate unwanted items whenever possible. There are tons of nonprofits and charity organizations that will be more than happy to take your unwanted items. Whenever possible, we donate to Dell Reconnect (Goodwill), American Cellphone Drive, the World Computer Exchange, eBay for Charity, Salvation Army, Habitat for Humanity, Leveling the Playing Field, Big Brothers Big Sister of America, as well as some other organizations.
Reusable materials are to be taken to a specialized recycling facility, such as Call2Recycle, E-Cycling Central, Sustainable Electronics Recycling International, Staples, Liquid Technology, BestBuy, Complete Recycling Solutions, Thanks for Being Green and others
Cities where this service is most in demand
Frequently Asked Questions
→ How to Remove a Carpet?

Removing a carpet is not an easy job, but it also depends on the type of carpet you're willing to discard.

SMALL.Small carpets, for example, are the easiest to handle. If the rug is not nailed down by tack strips, simply roll it, and leave it next to your garbage cart at the curbside.

BIG.The bigger carpers require some efforts as the most efficient way to prepare them for the removal is shredding and rolling them. This way, you save a couple of bucks and precious time needed for the removal. You're going to need to cut the carpet to smaller sections (3-4 feet), roll them into tight bundles, secure with strings, and place them next to your garbage cart at the curb. But when you do that, make sure not to hurt yourself with the tools or tack strips!

WALL-TO-WALL.In order to prepare your wall-to-wall carpet for removal,it needs to be detached from the tack strips that hold it by the walls. Starting from the corner, grab the mat with pliers and pull. Try pulling with your hand (if more convenient) until able to cut a small section. Keep pulling back the carpet and slicing it into strips. Having prepared your carpet for the removal, call competent junk haulers like WE JUNK, and rest assured that it is going to be removed and disposed of in a green way.

→ How to Rip up a Carpet?

To rip up an old carpet, firstly, you need to detach it from the baseboard at the edges of the walls. The tack strips connected to the baseboard can be nailed down or glued with carpet glue. This means that you are going to need some specific tools such as utility knife, pry bar and pliers, but be careful to not hurt yourself or make any damage to your house.

→ Is there carpet recycling near me?

Taking an old carpet to a recycling facility is an excellent idea! Because carpets consist of multiple complex fibers, it makes them impossible to break down in landfills. But the bright side is that most carpets are recyclable, and the retrieved materials can be used to make a new product. Local recycling centers, such as CARE (Carpet America Recovery Effort) is a great place to recycle carpets efficiently across the U.S.Additionally, use online search tools to locate the closest recycling facilities near your area: https://search.earth911.com/
Featured on
Amazon
Angellist
Yelp
Flickr
Forembee