Getting Rid of Your Old Air Conditioning Unit
The use of household appliances is an essential part of our day-to-day activity. But every device has a lifespan which eventually runs out, and you're gonna need to have your old air conditioner replaced. WE JUNK can help to dispose of your unwanted AC units in eco-friendly way. Why is it important?
Most air conditioning units are bulky, difficult to dismantle, and contain hazardous chemicals (freon and other refrigerants). The disposal of such appliances is regulated by the U.S. Federal Government under the Clean Air Act, which does not allow ACs to be simply thrown away in a landfill or even regular recycling bin. So, how to properly dispose of your old air conditioner?
WE JUNK provides professional junk removal services and responsible disposal of your unwanted appliances. Whenever possible, our hauling team donates old appliances that are still working and takes parts of your old AC's to a specialized recycling facility. Order a free quote online or simply call 1-888-WE-JUNK2 (935-8652) to schedule stress-free junk removal services at your doorstep. WE JUNK GREEN!
Types of AC's We Haul Away
Ductless Air Conditioner

Need to get rid of your old ductless air conditioner? Let us get you a hand with that. Because WE JUNK like no other!

If you have an old AC sitting around your house, and planning to replace it any time soon, most likely, you are going to need some help with the hauling. To install a new air conditioner, the old one has to be disposed of. What's more important, it should be disposed of properly. The parts of household appliances that contain harmful chemicals must be taken to recycling facility (as regulated by the US EPA).s.

We believe that a proper e-waste recycling matters! Think green and book a pick-up day with WE JUNK online.

Window Air Conditioner

When it is time to replace or get rid of your old window air conditioner, you'll find that it's not as easy as it may seem from the first sight.

Dismantling built-in appliances requires specialized tools and technicians. Not to mention the dimensions problem, as well as all the dirt floating around from moving.

So, "how do I dispose of my old air conditioning unit properly?" you may wonder. The answer is simple – WE JUNK! Call 1-888-935-8652 now, or book online to get free estimate, and our team of professional haulers will pick up your unwanted items and make sure it's disposed of safely and responsibly.

Portable Air Conditioner

Used appliances take up all the free space in your house? Need a hand with their disposal? WE JUNK responsibly!

Disposing of a portable air conditioner is easier than the built-in one, but still requires careful handling. Why it's important?

Regardless of the type of appliances, all air conditioning units contain different cooling refrigerants: CFCs, HFCs, HCFCs etc. These hazardous chemicals are called ozone-depleting substances (ODS), that are extremely harmful for the environment. Even those that don't contain ODS, still have greenhouse gases, which can negatively affect the ozone layer of our planet. We think GREEN because we CARE!
What Type of AC You Have?
We deal with
all types of Air Conditioning Systems and units
, including residential, office and industrial: Hybrid Air Conditioner, Central Air Conditioning System (A/C), Ductless Mini-Split Systems, Split Air Conditioning System, Evaporative Coolers, etc.
How it works
1

Schedule an appointment

2

Point to your old appliance

3

Enjoy the cleanness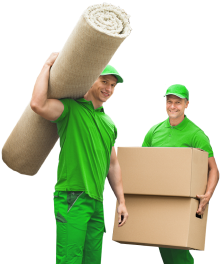 What needs to be cleaned out?
What Happens to Your Items?
We realize how important it is to recycle and take care of our nature, and that's why, at WE JUNK, we recycle or donate the unwanted items whenever possible. We donate to: Goodwill, Salvation Army, Habitat for Humanity, as well as other local communities ('Leveling the Playing Field, Washington D.C)
Cities where this service is most in demand
Frequently Asked Questions
→ How to dispose of an air conditioner properly?

When we are looking for a place to take our unwanted appliances to, there are several options to consider. Interestingly, we can even make some pocket money for taking our old air conditioner to recycle. Start with searching for local bounty programs sponsored by government. Most of these programs have specific requirements for the appliances they take. To find out more about bounty programs in your area, try contacting your electricity provider (EPA).
Next, there are state and federal regulations as to proper disposal of ODS-containing appliances, so make sure to contact your local sanitation department to see if your e-waste needs professional handling or removal. Otherwise, heavy fines will be applied for throwing out an air conditioner or any other freon-containing appliances in the landfill as they are.
The most important part of an old AC disposal is recycling. Depending on how old your air conditioner is, you can donate it to a worthy cause (if it's still working) or simply seek for a local recycling organization (that can make use out of its parts). Whichever option may seem more convenient or profitable to you, think green and dispose of your items responsibly!.

→ Why is it important to recycle old appliances?

Air conditioning units contain hazardous chemicals and greenhouse gases, that are harmful to the environment. The disposal of such appliances is regulated by state/federal laws; the violators are heavily fined. So, when we talk about the importance of recycling, first and foremost, we need to think about is the protection of the environment we live in. At WE JUNK, we believe that a proper disposal matters, so when it comes to trash removal – we think green!

→ How to clean an air conditioner filter?

To learn how to clean an AC filter by yourself, first make sure to check if your filter is reusable, but not the one that is meant to be disposed of. Replacing the filter in an air conditioning unit is a step-by-step procedure that will require some time and a specialized toolset. Find the complete guide on how to replace an AC filter in Blog section of our website at a later date.

→ Where can I take my old air conditioner for disposal?

Browse local scrap yards, recycling facilities and charity organizations to consider all possible options. But generally speaking, it depends on the condition and characteristics of your old AC you're willing to give up. For instance, scrapping a whole window air conditioner along with some other small items will earn you not more than $10. However, dismantled appliances may double, or even triple the sum you will get, so there is something to think about at this point.
Featured on
Amazon
Angellist
Yelp
Flickr
Forembee